Gerrit Th. Rietveld (1888-1964)
A set of six original 'Zig Zag Chairs'
Designed: ca 1934-1935
Executed by Rietveld's regular cabinet maker, Gerard van de Groenekan, ca 1970, De Bilt The Netherlands.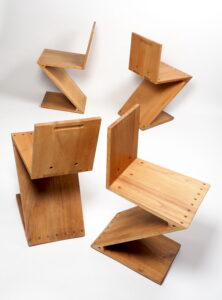 Untreated planed elm wood panels 19 mm, glued with five dovetail joints, bolts and nuts of brass.
The chairs here on offer are constructed with measurements, materials and construction details that were used by Rietvelds regular cabinetmaker from 1940/1945 on.
Dimensions: 75 x 44.5 x 37 cm.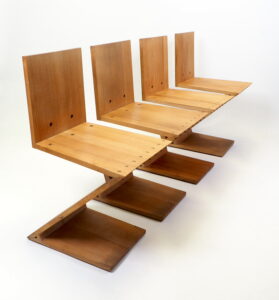 Together with the 'Red and Blue' chair and the 'Divan' table, the ZigZag chair is one of the most iconic pieces of furniture designed by Gerrit Rietveld. It is a revolutionary chair that, like the first so-called cantilever tubular steel chairs, no longer stood on four legs and seems to defy gravity. Furthermore, the chair does not consist of a frame that supports a seat and back anymore, but of four planes, each of which is constructively and optically equally important.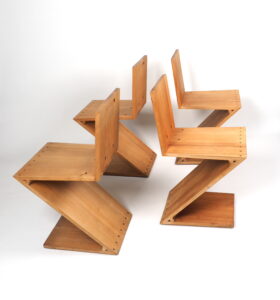 Provenance:
We obtained these ZigZag chairs from the first owner Architect Ruud Wilmink from Amsterdam. At the end of his architecture studies, he personally ordered the chairs from Gerard van de Groenekan in De Bilt around 1970 for the furnishing of his first home. Quote:
"The furnishing of it (first home) was of course a challenging assignment for an aspiring architect like me. I made a design that included a number of chairs designed by Rietveld and went to De Bilt to order them from furniture maker Gerard van de Groenekan who, after the death of Gerrit Rietveld in 1964, had acquired the exclusive right to make them. I ordered four zigzag chairs, a Berlin chair and a red-blue chair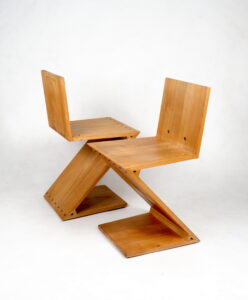 Two of the first set of four ZigZag chairs were marked by Van de Groenekan with a paper label and two with a brand.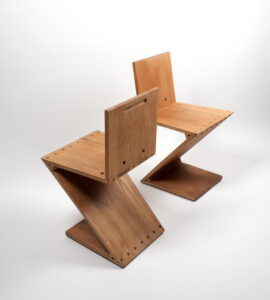 A few years later, Wilmink commissioned Van de Groenekan to make two more ZigZag chairs for him.
This time Van de Groenekan left the chairs unmarked. Quote:
"When we moved a few years later, we ordered two more zigzag chairs. Van de Groenekan still wanted to make it, although the Rietveld heirs had sold the rights to Cassina in 1971. Perhaps – but I think about this afterwards – that is why the last two chairs do not carry a brand or a Van de Groenekan name and address sticker. At the time, we did not pay any attention to this, because the furniture was purely for personal use and not for trade."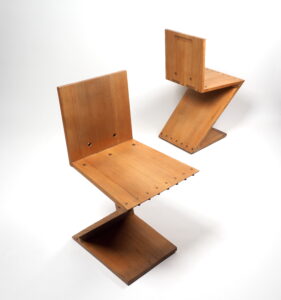 Earlier this year, we sold two of the 6 ZigZag chairs from arch. Wilmink to French collectors at the BRAFA art fair in Brussels. We just sold one of the chairs with a brandmark to Belgian collectors.
From the three chairs that are now available, one is marked with the brand "HGM, GA v.d. GROENEKAN, DE BILT NEDERLAND" and two are unmarked.
The chairs can be purchased individually or in sets of two or three, price on request.
Contact for information or prices >