Gerrit Th. Rietveld (1888-1964)
Original 'Red Blue chair'
Design: 1919/1923
Execution: G.A. van de Groenekan, ca 1970, De Bilt, The Netherlands
Frame; solid beech wood slats with beech wood pins/dowels, stained dark brown/black, the ends finished with Chromate yellow paint. Seat; plywood, finished monochrome with Ultramarine blue paint. Back: plywood finished monochrome with vermilion red paint.
Dimensions: 86 x 65.9 x 82.5 cm
The chair is marked with a paper label.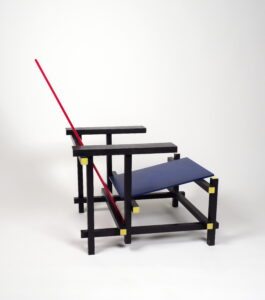 In1919 Architect Gerrit Rietveld joined the legendary 'De Stijl' group, an esthetic movement founded by Dutch artists and architects two years earlier.
Inspired by the work of his fellow 'De Stijl' member Bart van der Leck, of whom we also have some interesting works in our collection, Rietveld started experimenting with the use of primary colors in the designs for furniture around 1921-1922. Probably about 1923 – a hundred years ago! – he made the first copy of his wooden-slat easy-chair using Red Yellow and Blue, the color scheme that would bring the chair its world fame as an icon of De Stijl movement.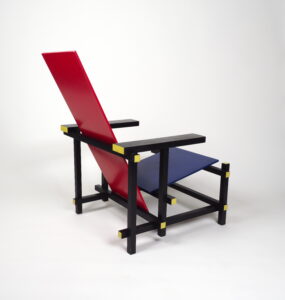 Provenance:
We have obtained this 'Red Blue chair' from the first owner Architect Ruud Wilmink from Amsterdam. At the end of his architecture studies, he personally ordered the chair from Gerard van de Groenekan in De Bilt around 1970 for the furnishing of his first home. Quote:
"The furnishing of it (first home) was of course a challenging assignment for an aspiring architect like me. I made a design that included a number of chairs designed by Rietveld and went to De Bilt to order them from furniture maker Gerard van de Groenekan who, after the death of Gerrit Rietveld in 1964, had acquired the exclusive right to make them. I ordered four zigzag chairs, a Berlin chair and a red-blue chair."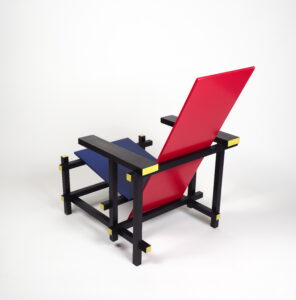 In addition to the 'Red Blue chair', we also have a 'Berlin chair' and four 'ZigZag chairs' from the interior of Architect Wilmink in our collection. All these iconic designs have been in use for more than half a century but are in exceptionally good condition. Quote from arch. Wilmink:
"Without children and pets in the house, it wasn't that difficult to keep them in good condition. We have now transferred the valuable chairs with a long history to Galerie Van den Bruinhorst, who hopefully will find a good destination for them. We will miss them."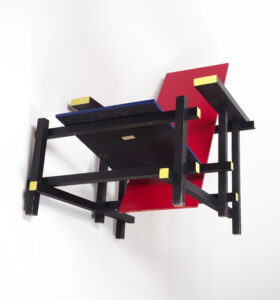 The chair is marked with a small paper label measuring 45 x 19 mm. taped underneath the seat. The printed black text on the sticker reads; "G.A. v. d. Groenekan Utrechtseweg 315, DE BILT".
Probably because of the increasing interest in Rietveld's furniture from abroad, Van de Groenekan added 'The Netherlands' in 1970 with a pen.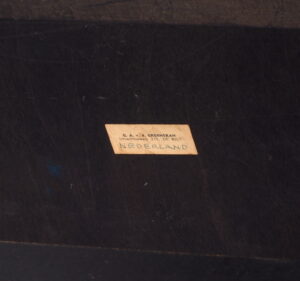 Price on request.
Contact for information or prices >